Fewer Unnecessary Procedures
with less stress for doctors and 35% less cost for payors.

Improving Utilization Management in Healthcare
Problem: Health Plans and Benefits Management Companies are just two of the many players in healthcare working on utilization management - trying to improve standards of care while reducing costs. This generally means that doctors and patients wait while payors approve cases.
Solution: Hindsait automatically translates lengthy faxes with Patient charts into analyzable data and instantly summarizes cases. The software computes a unique clinical case confidence score, that allows payors to apply standards more consistently and approve necessary procedures fast.
Request This Case Study
More blood donations
from underrepresented populations.

Benefiting Blood Banks
Problem: Many big city blood banks struggle to meet the unique needs of sickle cell anemia patients. This challenge can be alleviated by increased participation by African American blood donors who are often underrepresented compared to their cities' populations.
Solution: Hindsait's ai capabilities, predictive analytics and communication management tools are put to the test in a pilot program with New York Blood Center. The aim is to increase donation rates by optimizing culturally sensitive prospective donor communications.
Request This Case Study
Reduce costly readmissions
AI improves relapse predictions before and after a patient is discharged
Transforming Inpatient Care.
Problem: Hospitals can't afford readmissions. Medicare and many other payors are no longer covering the costs for these admissions which they see as preventable.
Solution: Hindsait's SaaS platform identifies patients who are nearing the end of their stay and suggests whether keeping them might in fact be more cost effective than risking readmission. Then Hindsait tracks recently discharged patients and delivers communications to healthcare and social workers as well as the patients themselves that enable optimal relapse prevention.
Request This Case Study
ACO boosts income
and gives better care, finding some patients need more or less intervention.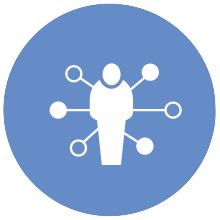 Advancing Accountable Care Organizations
Problem: Accountable Care Organizations (ACO's) take real financial risk - top line and bottom line - when committing to reduce spending to deliver all of their patients' healthcare needs.
Solution: Hindsait is the ultimate solution for helping ACO's reduce risk and in fact uncover real income opportunities while helping deliver top quality care. We identify patients who should come in more often to optimize health outcomes at lower costs. And we even automate appointment and refill reminders.
Request This Case Study