July, 2014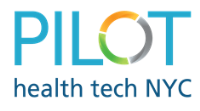 Selection by Pilot Health Tech NYC is recognition that Hindsait is one of the most promising healthcare technology startups in the NYC area. One of 2013's winners recently raised $130 million led by Google Ventures. Is Hindsait next?
The specific program Pilot Health Tech is sponsoring is Hindsait's partnership with New York Blood Center which aims to increase the number of African American blood donors in NYC...
Read More
One of a handful of startups represented by Startup Health, Mr. Dasgupta gave a keynote pitch for Hindsait Inc to potential clients and investors at Healthcare Datapalooza 2014.
April, 2014
StartUp Health, a global startup platform accelerating innovation in health and wellness, announced the addition of Hindsait to its StartUp Health Academy, a long-term entrepreneurship program and community designed to help scale early-stage digital health companies. To date, 63 companies have joined StartUp Health, three of which have been acquired, and the program's portfolio has raised a total of $130 million.
Read The Article