Dec, 2015

AIBusiness recently met Pinaki Dasgupta, CEO & Founder of one of the most exciting AI healthcare start-ups, Hindsait. Pinaki shared with us his inspiration and future plans and how AI technology will enter into an exponential growth phase within next 5 years.
Read The Article
May, 2015

After a rigorous, competitive process involving more than 50 healthcare startups, Florida Blues partner Healthbox and GuideWell announced the selection of Hindsait, Inc. to participate in their Miami Studio accelerator/incubator program.
Read More
April, 2015
MedCity News is looking at the future of healthcare technology and sees Hindsait as one of a handful of health tech start-ups with especially innovative approaches to improving healthcare...
Read The Article
July, 2014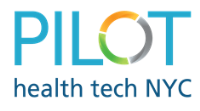 Selection by Pilot Health Tech NYC is recognition that Hindsait is one of the most promising healthcare technology startups in the NYC area. One of 2013's winners recently raised $130 million led by Google Ventures. Is Hindsait next?
The specific program Pilot Health Tech is sponsoring is Hindsait's partnership with New York Blood Center which aims to increase the number of African American blood donors in NYC...
Read More